Five Cell Culture Methods With Any VitroGel Hydrogels
The XENO-FREE bio-functional VitroGel system is versatile for many applications. Choose either the "ready-to-use" hydrogel system for optimized formulation and simple operating process or the high-concentration hydrogel system to create customized microenvironment by "Mix & Match" and tuning of the hydrogel. There are many ways to use our hydrogel system to fulfill your research needs. To inspire you for creative ideas, here we list five of the most popular culture methods to use our hydrogel, including 3D cell culture, 2D hydrogel coating, static suspension culture, hydrogel-cell bead and as an injectable carrier. These five culture methods apply to all our ready-to-use VitroGel and high concentration VitroGel system. Cells cultured in these methods can be easily harvested out with the VitroGel® Cell Recovery Solution for downstream analysis or subculture.




3D Static Suspension Culture



VitroGel system is ideal for 3D cell culture. By simply mixing VitroGel solution with cell suspension at room temperature, transferring to a culture plate and adding top medium, the cells are ready for incubation.
This 3D culture method make a full cellular encapsulation, which enhance the cell-hydrogel matrix interactions. Many downstream analysis such as drug screening, immunofluorescence analysis, and cytotoxicity assays can perform in hydrogel directly.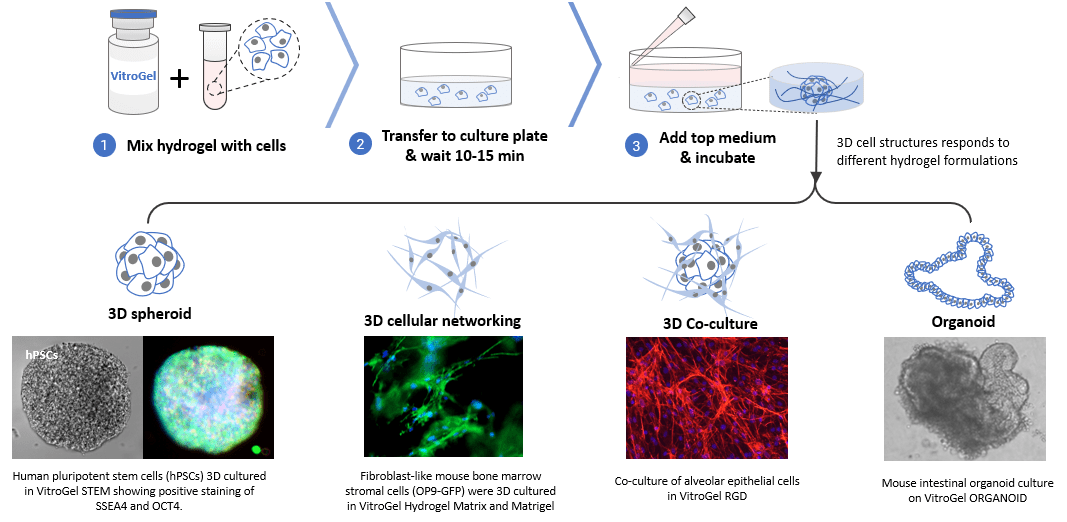 Video Protocol Demo
3D Cell Culture
"Ready-To-Use" Hydrogels
Video Protocol Demo
3D Cell Culture
VitroGel High Concentration Hydrogels

2D hydrogel coating method is great to generate the bridge between the traditional 2D culture and 3D cellular encapsulation culture. VitroGel can be coated at the bottom of the culture plate as a thick layer of hydrogel by mixing VitroGel solution with cell culture medium at room temperature and transfer to the culture plate. Cells can be added directly on the top of hydrogel.
The 2D hydrogel coating method allows cells to interact with/submerge into the functional hydrogel substance and maintain an excellence exposing surface to the top medium. The quick cell spheroid formation can happen when cells migrate/aggregate on the surface of the hydrogel. The 2D hydrogel coating method can be used as an alternative co-culture method in combine with the 3D cell culture method: encapsulate a cell type in the hydrogel for 3D culture and then add another type of cell on top of the hydrogel as 2D coating culture. The 2D coating VitroGel can also be a powerful system to study cell invasion, angiogenesis assay and layer by layer co-culture. Besides 2D thick gel coating, VitroGel is also good to be diluted for thin gel coating method.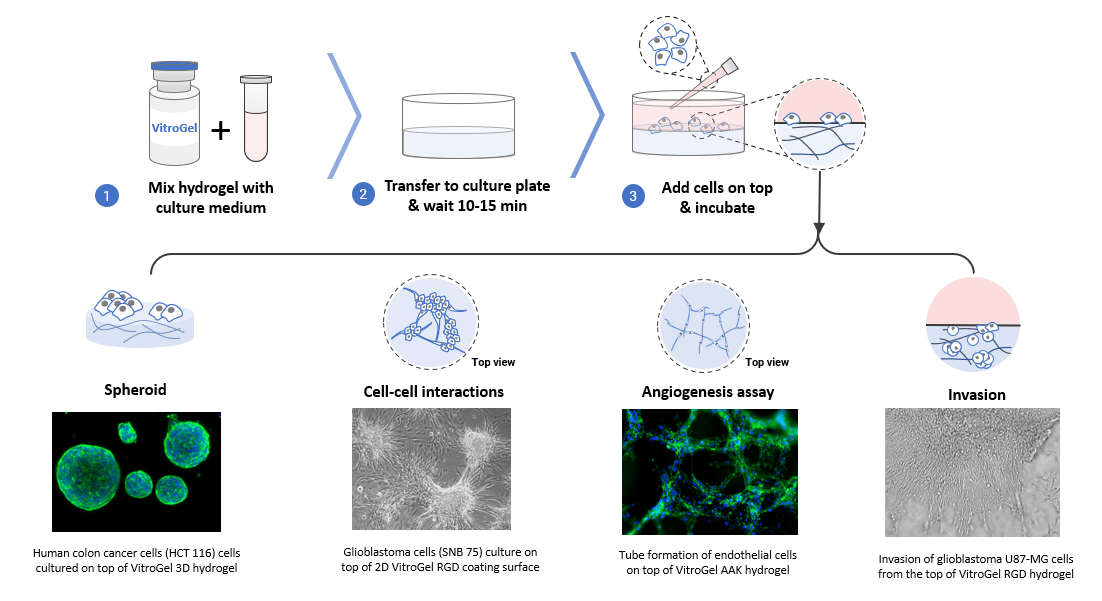 Static Suspension Culture

3D static suspension culture protocol is a unique culture method of VitroGel hydrogel system. By simply mixing the VitroGel solution and cells for a soft hydrogel formation, the researchers can further directly mix the hydrogel-cell mixture with additional culture medium to make a hydrogel-cell suspension. The hydrogel matrix disperses within the cell culture medium can increase the viscosity of the whole mixture and help cells to maintain the suspension status without a strong agitation.
The 3D static suspension culture is easy to prepare and flexible to adjust the final viscosity for various cell types and seeding densities, by simply changing the mixing ratio of hydrogel and cell medium. For example, researcher can use a fixed 2:1 (hydrogel solution :  cells, v/v) to prepare the hydrogel-cell mixture and then mix it with cell culture medium at 1:1 to 1:10 ratios to get different viscosity of final hydrogel-cell suspension.
This culture method can be easily used for lab size or large industry size cell culture scale-up. There is no fancy bioreactor or costly culture vessel needed for research lab. We use it for stem cell spheroids and HEK293 spheroids generation.  The method is also applied to all our ready-to-use VitroGel and high concentration VitroGel  system. The cells generated from VitroGel static suspension culture can be easily harvested out by centrifuging.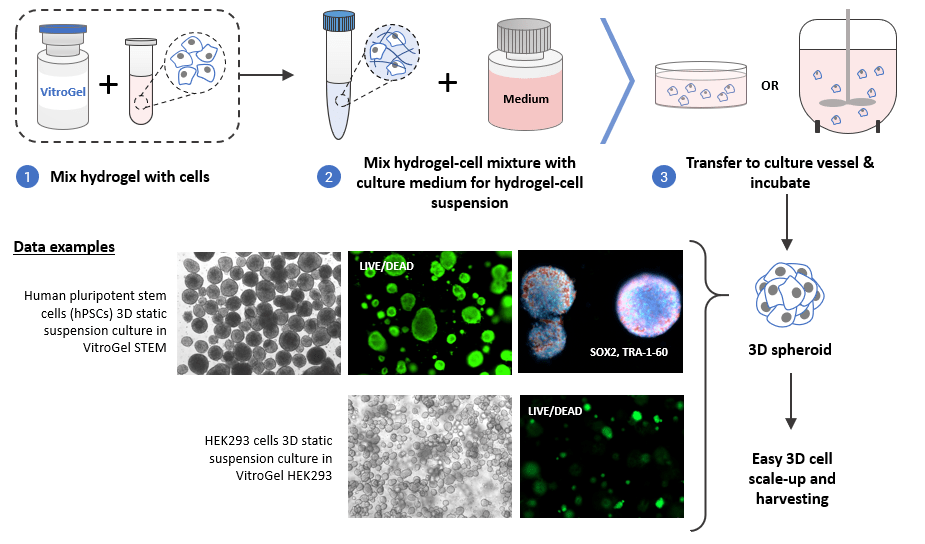 As an injectable hydrogel system, VitroGel has a unique shear-thinning and rapid recovery rheological property. The hydrogel solution can mix with cells for a soft hydrogel, which then can add to the cell culture medium as droplets for hydrogel-cell bead formation.
This culture method not only encapsulates cells within the hydrogel matrix to enhance cell-matrix interactions, but also allow the whole hydrogel-cell bead to suspense in cell culture medium for optimal medium penetration. Researchers can adjust the size of the hydrogel beads by changing the volume of droplets added to the culture medium.
For cells that need strong attachment to grow such as mesenchymal stem cells (MSCs), this hydrogel-cell bead culture method is an excellent way to replace microcarriers for 3D cell scale-up. Since the excellent medium and oxygen penetration, cells cultured in hydrogel beads can maintain high cell viability for long term culture. The method applies to all our ready-to-use VitroGel and high concentration VitroGel  system. The cells generated from VitroGel hydrogel-cell bead culture can be harvested by VitroGel Cell Recovery Solution.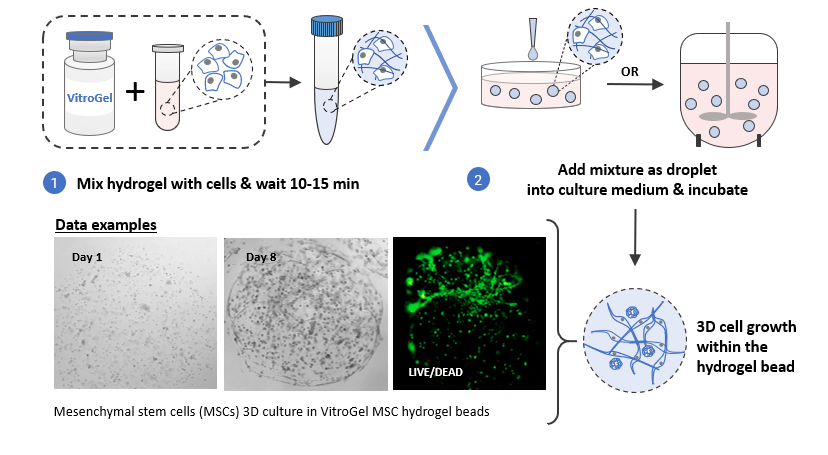 VitroGel is an outstanding injectable carrier for animal injections. Under the mechanical shearing force such as injection through a syringe, the hydrogel performs a gel-sol transition and becomes free-flowing status. However, once the shearing force ceased, the mechanical strength of the hydrogel can rapidly recover with a sol-gel transition and become a hydrogel status again. With this injectable property, VitroGel can be used for in vivo cells/drug delivery for cell therapy or controlled release.
Simply mix hydrogel solution with cells/compounds at room temperature, the hydrogel is ready for injection in 20 minutes. Besides the ready-to-use VitroGel, researchers can also use VitroGel high concentration hydrogel to get injectable hydrogels at different hydrogel strengths.