Overview
VitroGel® 3D-RGD is a ready-to-use tunable hydrogel system modified with RGD cell adhesive peptide, promoting the cell attachment and cell-matrix interactions during the 3D cell culture. This RGD modified hydrogel system is good for adhesion cells or cells need good cell-matrix interactions.
VitroGel 3D-RGD is one system of the family of ready-to-use, xeno-free tunable hydrogel system which closely mimics the natural extracellular matrix (ECM) environment.
VitroGel creates a functional and optimized environment to make cells feel like at home. The hydrogel system is room temperature stable, has a neutral pH, transparent, permeable and compatible with different imaging systems. The solution transforms into a tunable hydrogel matrix by simply mixing with cell culture medium. Cells cultured in this system can be easily harvested out with our VitroGel Cell Recovery Solution. The hydrogel can also be tuned to be injectable for in vivo studies.
From 3D cell culture, 2D cell coating to animal injection, VitroGel makes it possible to bridge the in vitro and in vivo studies with the same platform system.
Specifications
Xeno-free tunable hydrogel modified with RGD peptide
Good for adhesion cells or cells requiring good cell-matrix interactions
Ready-to-use at room temperature
Tunable hydrogel:  Dilute with VitroGel Dilution Solution (TYPE 1 or TYPE 2) for different concentrations
Neutral pH
Transparent
Compatible with VitroGel Cell Recovery Solution for easy cell harvesting
Injectable hydrogel (Check user handbook for preparation details)
Ships room temperature. Store at 2-8°C
Size: 2 mL and 10 mL
Number of uses (10 mL): 2-6 of 24-well plate at 250 to 300 µL/well


Handbook and Resources
Product Documentation
Video Resources
Application Notes
Data and References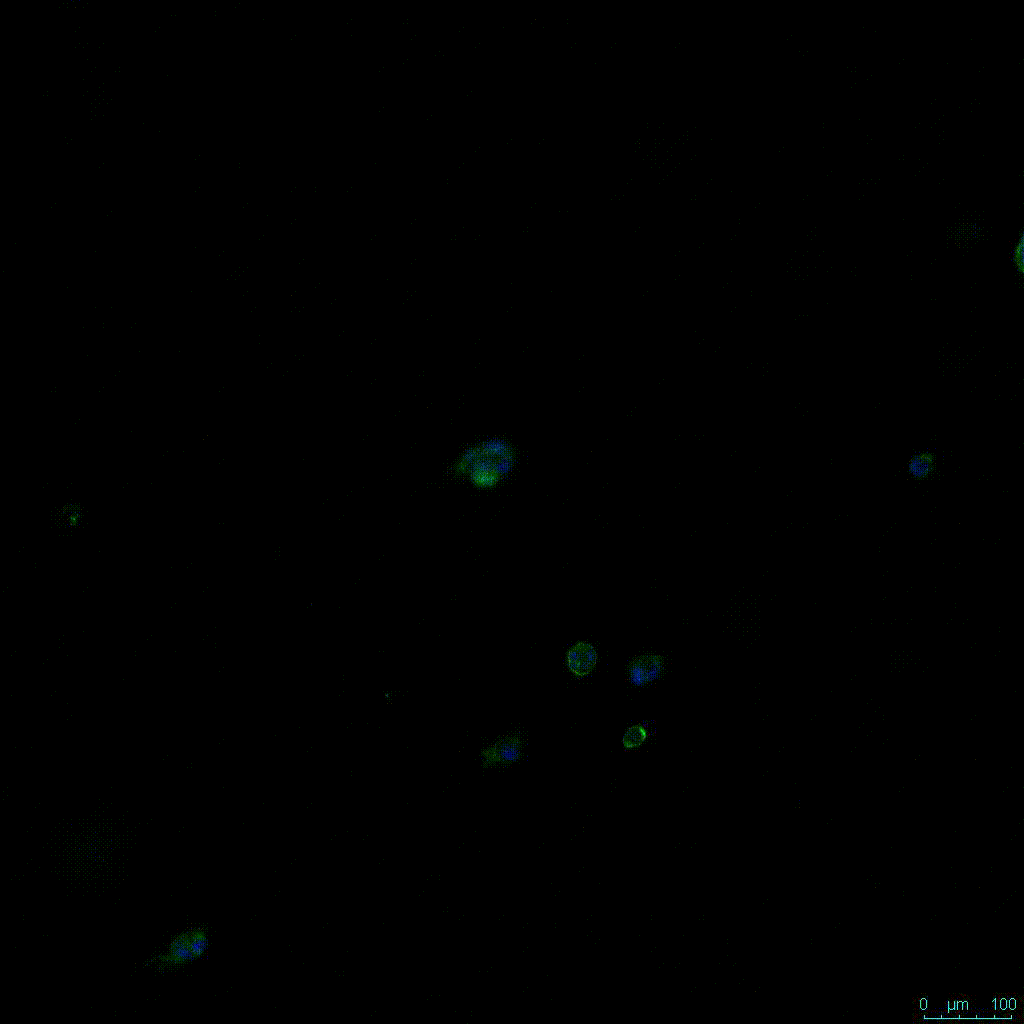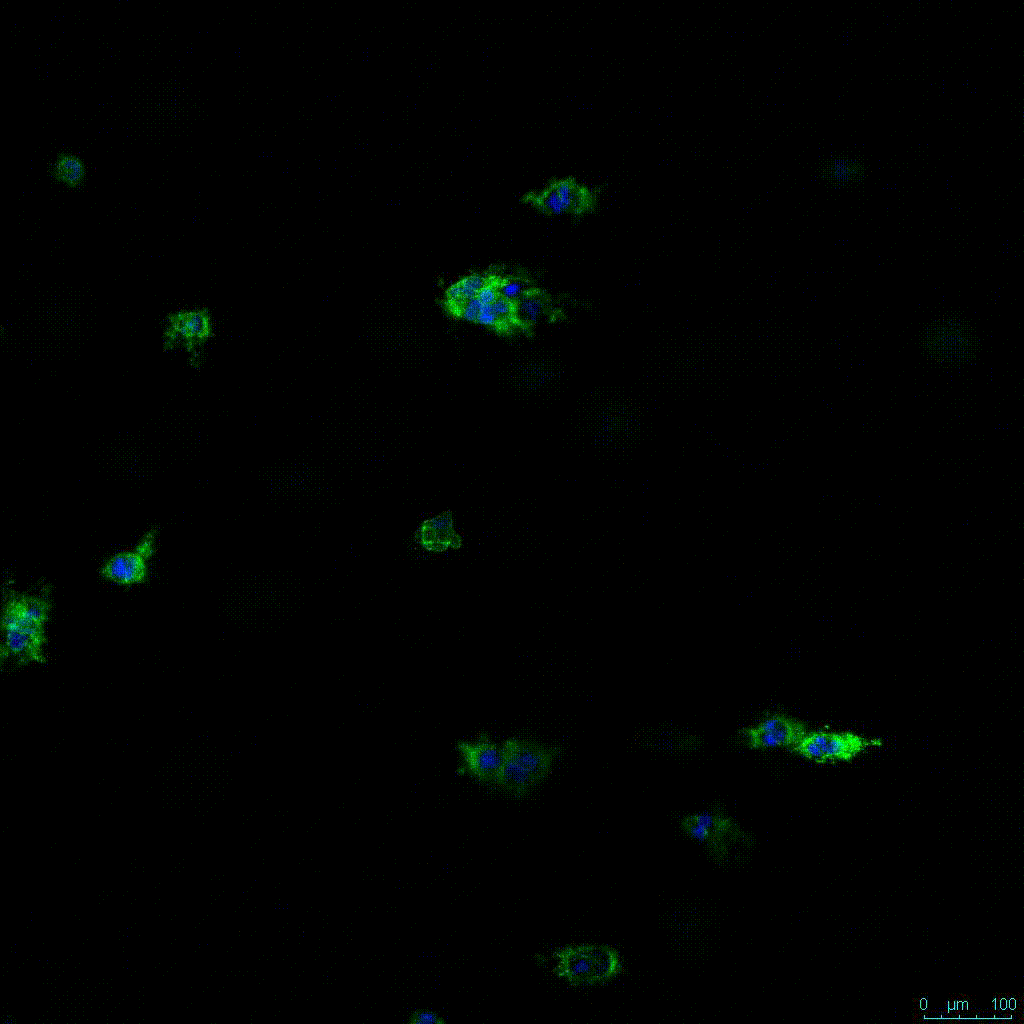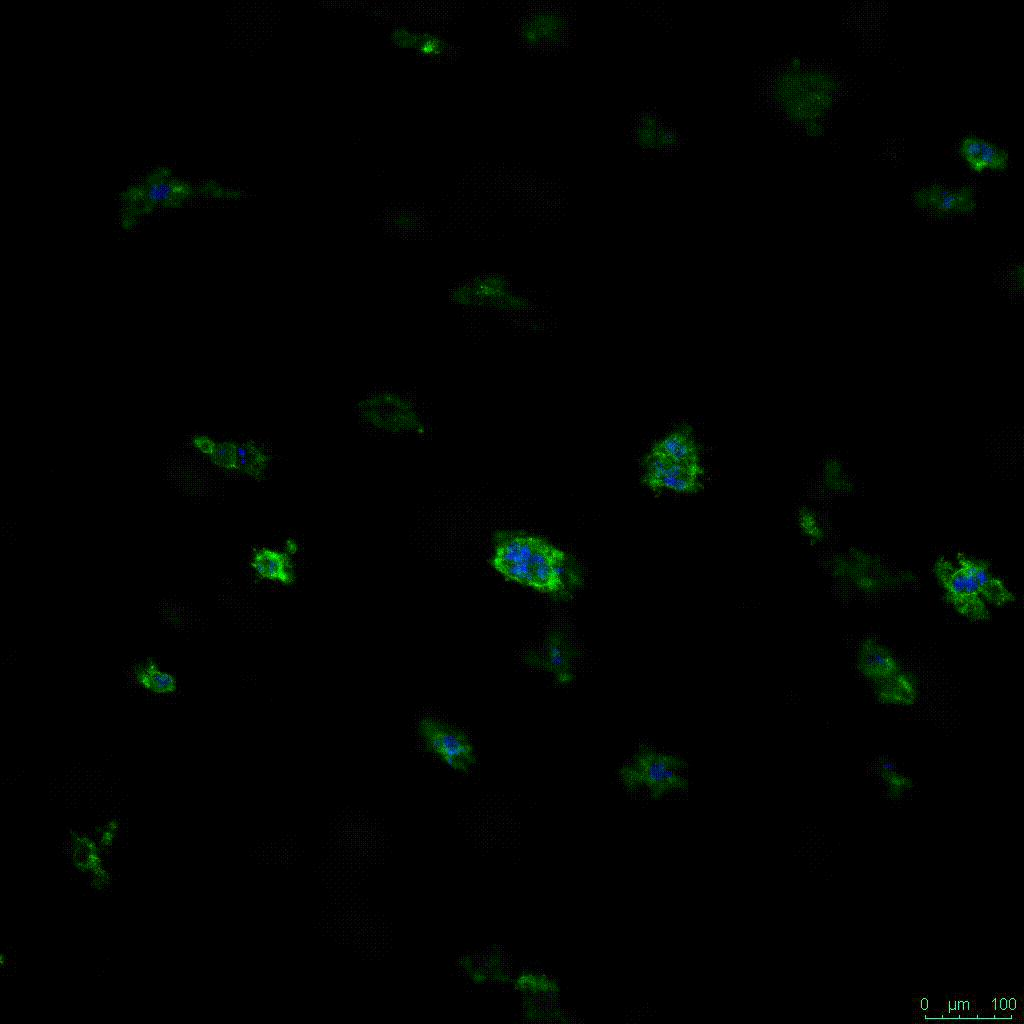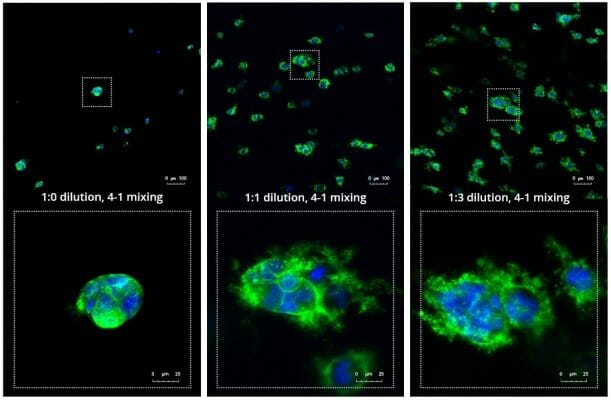 Figure 1. 3D culture of PANC-1 cells at three different dilutions of VitroGel 3D-RGD.
A. PANC-1 cells were cultured in increasing dilutions of hydrogel solution at concentrations of 1:0, 1:1, and 1:3. The morphological differences were seen based on the concentration of the hydrogel. The 1:1 and 1:3 dilution ratios of hydrogel allowed for more rapid division and expansion of the single cells, developing larger 3D colonies compared to 1:0 dilution. The ActinGreen / NucBlue staining in the enlarged images (bottom) reveals increasing complexity and dispersion of the ECM generated by the cell-cell contact of PANC-1 cells when maintained in VitroGel 3D-RGD hydrogel. Images were taken at Day 7 with 10X (top and middle) and 30X enlarged (bottom); corresponding antibody staining: NucBlue (nucleus) and ActinGreen (actin).

Figure 2. CD8+ T cells 3D culture in VitroGel 3D system
A. On 2D surface of VitroGel 3D-RGD, cells spread out, adopting a morphology reminiscent of the 2D culture on standard treated culture plastic. When cultured in 3D hydrogel, the strength of the hydrogel (different dilution) can affect its mechanical properties, and thus cell viability and response within the hydrogel. The results show that the 1:1 hydrogel dilution allowed for big colonies which can mimic in vivo situation for drug screening (see HCT 116 application note for details). A thick hydrogel coating plate has been prepared by mixing VitroGel 3D with PBS at 1:1 ratio. A 300 µL mixture has been added to a well of a 24-well plate and stabilization at room temperature for 20 min before adding cells on top of the hydrogel. Cell spheroids form on the top of hydrogel. Cells seeded at 2.5-10×105 cells/mL.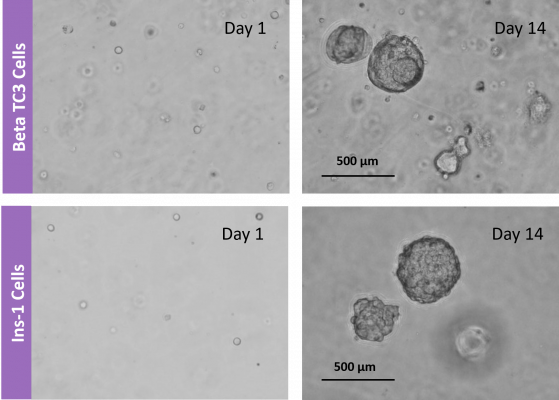 Figure 3. 3D culture of Beta TC3 and Ins-1 cells in VitroGel 3D-RGD hydrogel
Both Beta TC3 and Ins-1 cells can form a big spheroid structure in VitroGel 3D-RGD after 14 day. The cells were seeded at 5×105 cells/mL
Tables of successful cell types
| Cell types | Applications | Culture medium | Dilution |
| --- | --- | --- | --- |
| 4T1 cells | 3D culture | RPMI 1640 with 10% FBS | 1:2 |
| A549 cells | 3D culture | DMEM with 10% FBS | 1:1 to 1:3 |
| Au565 cells | 3D culture | RPMI 1640 with 10% FBS | 1:3 |
| Beta TC3 cells | 3D culture | DMEM with 10% FBS | 1:3 |
| BT 474 cells | 3D culture | DMEM with 10% FBS | 1:3 |
| DLD1 cells | 3D culture | DMEM with 10% FBS | 1:1 to 1:3 |
| Fuji cells | 3D culture | RPMI 1640 with 10% FBS | 1:1 to 1:3 |
| H460 cells | 3D culture | RPMI 1640 with 10% FBS | 1:1 to 1:3 |
| HCT 116 cells | 2D and 3D culture | McCoys' 5 with 10% FBS | 1:1 |
| HCT-8 cells | 3D culture | RPMI 1640 with 10% FBS | 1:3 |
| HEK 293 cells | 3D culture | DMEM with 10% FBS | 1:3 |
| Hela cells | 2D and 3D culture | DMEM with 10% FBS | 1:3 |
| HepG2 cells | 3D culture | DMEM with 10% FBS | 1:1 to 1:3 |
| Human iPSCs | 2D and 3D culture | mTeSR1 | 1:3 |
| Ins-1 Cells | 3D culture | RPMI 1640 with 10% FBS | 1:3 |
| MCF-12A cells | 3D culture | DMEM/F-12 with 10% FBS | 1:3 |
| MDA-MB-231 cells | 3D culture | L-15 medium with 10% FBS | 1:1 to 1:3 |
| Melanoma cells | 3D culture | RPMI 1640 with 10% FBS | 1:1 to 1:3 |
| OVCAR-3 cells | 3D culture | RPMI 1640 with 10% FBS | 1:1 to 1:3 |
| Panc-1 cells | 3D culture | DMEM with 10% FBS | 1:1 to 1:3 |
| SKB3 cells | 2D and 3D culture | DMEM with 10% FBS | 1:1 to 1:3 |
| SYO-1 cells | 3D culture | RPMI 1640 with 10% FBS | 1:1 to 1:3 |
| T47D cells | 3D culture | RPMI 1640 with 10% FBS | 1:3 |
| UD 145 cells | 3D culture | EMEM with 10% FBS | 1:1 to 1:3 |
References